Support Adoptive Families and Artisans with Noonday Collection
Before you go to put on your necklace, bracelet, or maybe a pair of earrings today, think about where those pieces came from. Not only where they were made, but the people who made them. While you were merely seeking out a beautiful piece of jewelry to accessorize your outfit, the designer may have been trying to make ends meet. They may have been forced into unfair labor practices or even forced against their will to make the jewelry that you could be wearing. This might sound pretty powerful, but many workers are worked long hours and for extremely low pay just to produce a piece of jewelry. Luckily, you don't have to choose between stylish pieces and to support a great cause, which is why I wanted to feature Noonday Collection.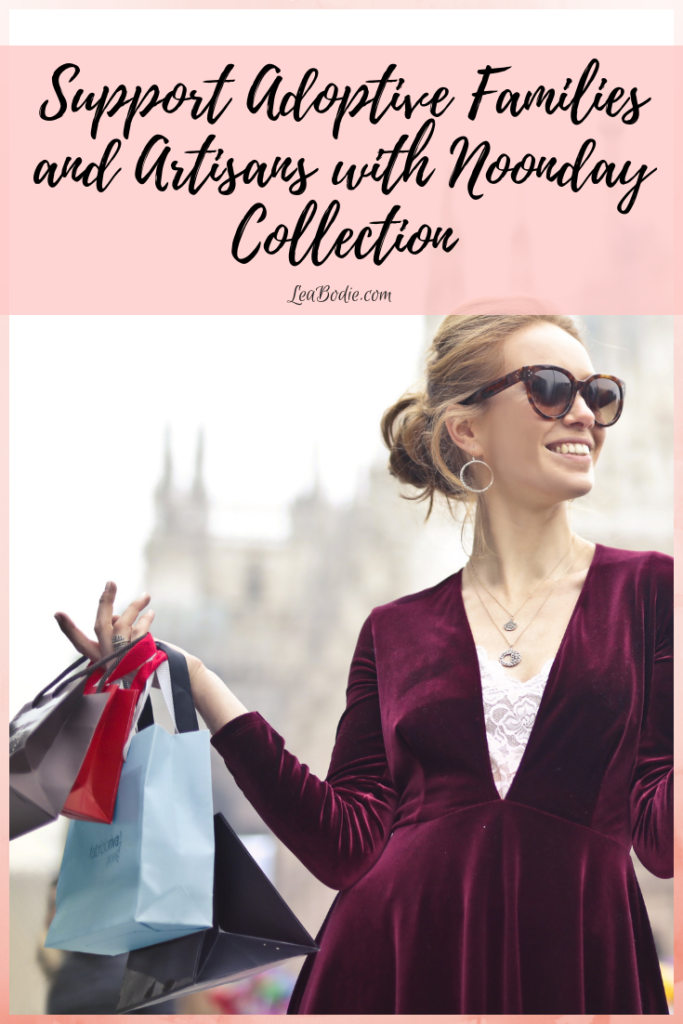 I have always been a lover of accessories, especially jewelry. However, this doesn't mean that I'm willing to support unfair labor or business practices to stay in style. That's why I love Noonday Collection!
About Noonday Collection
Noonday started in 2010 by Jessica Honegger after she met two talented designers from Uganda who changed her life. These jewelry designers dreamed of being able to use their fashion creations to create jobs in their community. Jessica decided to take their creations and sell them in a Noonday Trunk Show, and raise funds to adopt from Rwanda. As people saw her collection of beautiful pieces, they were in love with not only the style but the story of those pieces.

Noonday Jewelry designs and sells collections of both jewelry and accessories made by artisans from all over the world. Their beautiful pieces are crafted by designers in vulnerable countries, who may be at risk of human trafficking. By partnering with these artisans, they are able to provide them with dignified jobs to those who need it most.

The Impact of Noonday Collection
Noonday Collection believes that through their business, they are able to use the impact of style and fashion to change the world! Noonday collection works with over 30 artisan business partners, more than 4,000 different artisans, with more than 20,400 families who are indirectly impacted, over 1,600 ambassadors, and has supported more than 3,000 adoptive families!

The focus of Noonday Collection is building a world where women are empowered, children have homes and are cherished, and people have jobs. They work side by side with their business partners to ensure that families are able to care for their children and that no child has to be abandoned because of poverty. Noonday Collection works closely with their partners to make sure that these artisans are receiving fair wages, and 10% of the sales from their trunk shows are donated to families trying to adopt a child.

Products
Noonday Collection sells far more than just jewelry these days. What originally started as a small jewelry selling business has grown to include bags, home decor, and so much more! Here are some of the many products you'll find on the Noonday Collection website and in their trunk shows:

Necklaces
Bracelets
Earrings
Rings
Bags
Scarves
Luggage Tags
Wallets
Ornaments
Photo Holders
Tea Towels
Journals
These items are great for women who are looking to add a stylish piece to their wardrobe. Not only that, but they also make great gift ideas and options for kids! By choosing to buy your accessories through Noonday collection, you can be certain that the products you buy are going to help families in need.
---
Buy from trusted brands to ensure that the profits are working to help the artists who create them. Avoid companies that create poor living and working conditions!