Gift Guide to Support Moms
This time of year, we are all looking for that perfect gift for every single person on our list. If your Christmas list looks anything like mine, then you probably have your work cut out for you! When I'm shopping for gifts, my focus isn't just on finding the best gift for everyone on my list. When I can, I also look for gifts that will help others. This gift guide is packed full of great gifts that not only make excellent gifts but also help support other moms!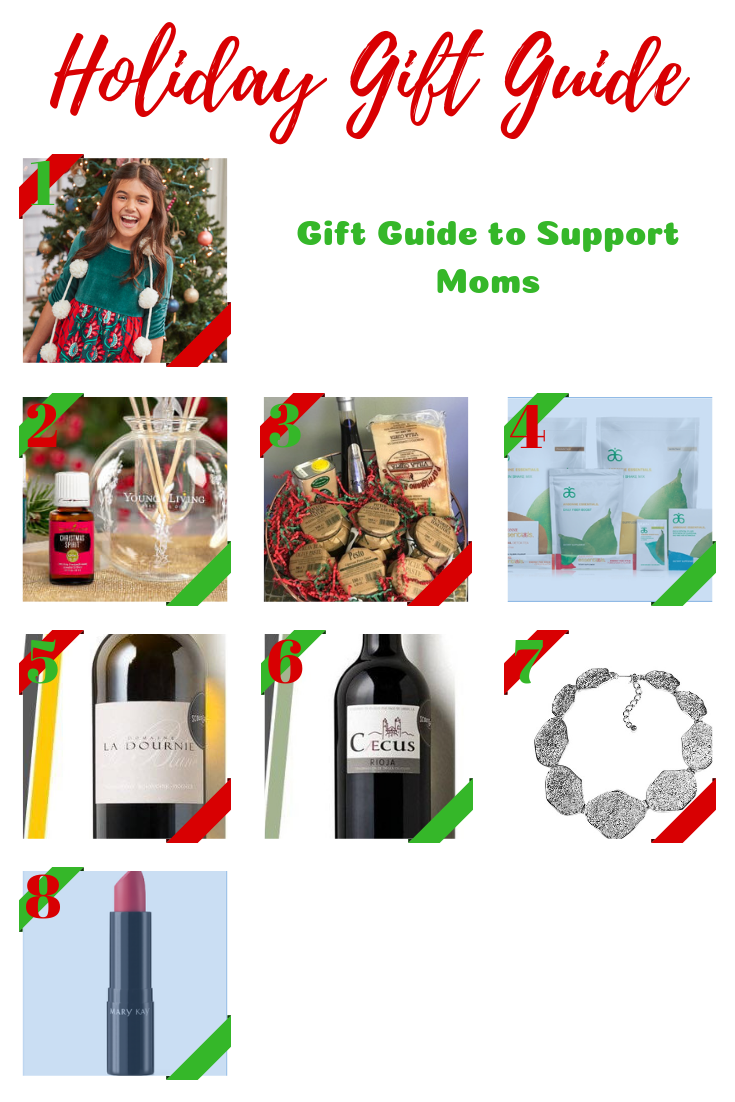 Matilda Jane Clothing's In The Spirit Dress is so much like the holiday dresses from our childhood, this festive number is oh-so-fancy with its velour bodice and gorgeous graphic skirt! Your little one will be darling, comfortable and holiday ready.
Beat away daily stressors, find tranquility, and wrap yourself in a floral aroma with all things Lavender! Fill the tub with steaming water, drop in a bath bomb, add a couple drops of Lavender oil for an extra dose of luxury, and suds up with a relaxing bath gel. Once you've toweled off, treat your skin to Lavender-infused lotion. The fresh scent will make you feel like royalty!
Tavola Italiana is jazzing up Thanksgiving and Christmas meals with its Parmiggiano Reggiano Cheese grated into Mashed Potatoes, Balsamic Vinegar dressing salads, and Olive oil as a baste for Turkey. Share the gift of flavor and tradition with your friends and family this holiday season by gifting.
The Arbonne 30 Days to Healthy Living program is the perfect way to recharge your body after Thanksgiving and before Christmas! Feel better, lose bloating and inflammation, sleep better and look better! Shop for item #1430! Contact info: 713.592.1162
Not only are these wines delicious, but they are clean-crafted as well! Unlike other wine manufacturers, Scout and Cellar wines off a natural and better-tasting wine experience that doesn't involve chemically-altering the wine. These wines are organic, vegan, and great for all the wine lovers in your life!
Designer Inspired and affordable luxury pieces with a full-service collection to accessorize any style! Unconditional guaranteed. Buy 2 items at regular and get up to 4 of your favs at 50% off of your most expensive choices!

Mary Kay's new limited edition matte lipstick is absolutely amazing! It's available in four amazing shades, but it's only available for a limited time!
Shopping for Christmas gifts can be exhausting and may even feel a little impossible sometimes. As you can see, choosing between giving back to other moms or getting everyone the perfect gift doesn't have to be a choice at all! With this gift guide handy, you can do both and still get all your Christmas shopping done in record time!
Where do you shop that supports others? Where is your favorite place to shop for Christmas gifts? Let me know in the comments!