10 Great Gifts for Families to Enjoy Together
When you have the whole family on your holiday shopping list, it can sometimes make much more sense to buy them a gift to share instead of purchasing separate presents for everyone. It can be tough finding something that's sure to please everyone, but with a little thought and consideration, you'll be able to find a gift they'll love. Not quite sure where to start your search? Here are ten ideas for great gifts the whole family will enjoy together: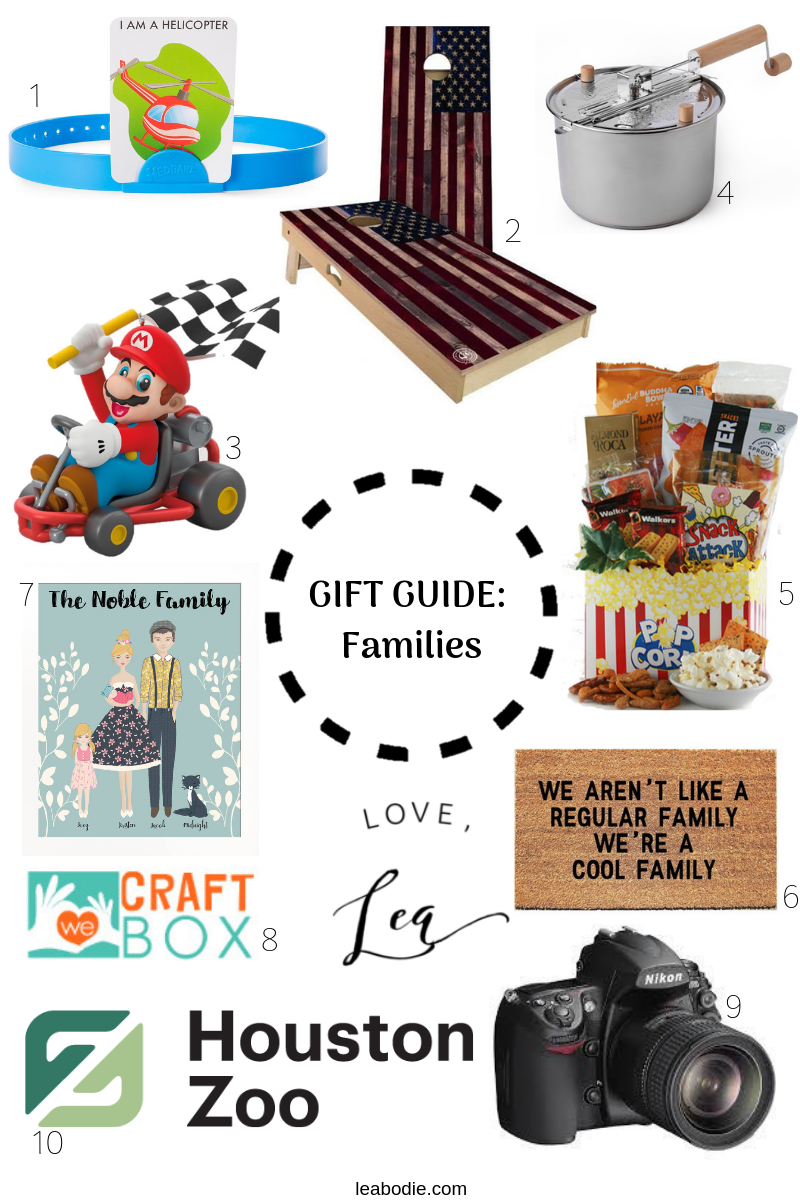 1. A board game
Lots of fun and innovative board games have joined well-loved classics on store shelves in recent years, reviving family game nights and giving us lots of great options for family-oriented gifts. From silly games like Hedbanz to more complicated, classic strategy games like Settlers of Catan, you're sure to find something everyone can enjoy playing together.

2. A lawn game
Shopping for a family who would prefer to spend their spare time outside? A lawn game can make a great gift. You can find affordable versions of bocce ball and ladder toss, or splurge on a more serious gift with a custom cornhole set for the family who always hosts neighborhood BBQs in their backyard.

3. A video game
Sticking with the theme of giving the gift of play, you might find yourself shopping for a family who's into video games. There are plenty of multiplayer games the whole family can enjoy together. From Mario Kart and Rock Band to trivia-based games, you can find something to suit any game-loving family's interest.

4. A fun kitchen gadget
Who doesn't love mini-donuts? From cake pops to popcorn poppers, you can find all kinds of devices made to whip up your favorite novelty treats and snacks around the holiday season.

5. Something to eat together
Food can also make a great gift for families! Purchase or assemble a gift basket packed with everyone's favorite treats, or give a gift card to their favorite restaurant for a well-deserved dinner out.

6. A custom family doormat
If you're looking for a practical yet personal gift to give, a customized doormat can be a great choice. You can find lots of custom doormat options on Etsy, from simple initials to more intricate designs. See what you think they'd like and order with enough time for the finished product to arrive!

7. A personalized sign
If you know the kind of aesthetic they're going for with their home decor, you may be able to gift them a personalized sign to add to their home. From a simple sign bearing their name to a fun and whimsical piece of art, you have lots of options here!

8. A subscription box
A subscription box can make a great gift for families to share. Receiving something in the mail is always fun, and you can send any kind of box they'd like! From boxes that feature international snacks to boxes that contain DIY craft kits to enjoy together, there's something for everyone!

9. A portrait session
For a gift they'll remember forever, gift them time with a professional photographer who can capture a few portraits of the whole family. With the convenience of smartphones, getting legitimate pictures taken by someone who knows what they're doing can be a rare treat, and it doesn't have to be too expensive, either. See if you can purchase a voucher from a local photographer to gift.

10. A family membership
Many local zoos, museums, and other attractions offer family memberships. When the kids are off school, and parents are looking for something inexpensive to do, these memberships come in handy!

---
There are plenty of great presents for families – you just need to figure out what your recipients will like! Have you ever received a gift for the whole family that you've loved – or hated? Leave a comment and let me know!