Stuck on the perfect gift for the coffee lover on your Christmas shopping list? This article is for you! I've got great gift ideas geared toward those who can't turn down a good cup of joe! You're sure to find something to suit your coffee-loving friend on this list. If you're shopping for a true coffee-holic, here are ten gift suggestions any coffee lover will appreciate: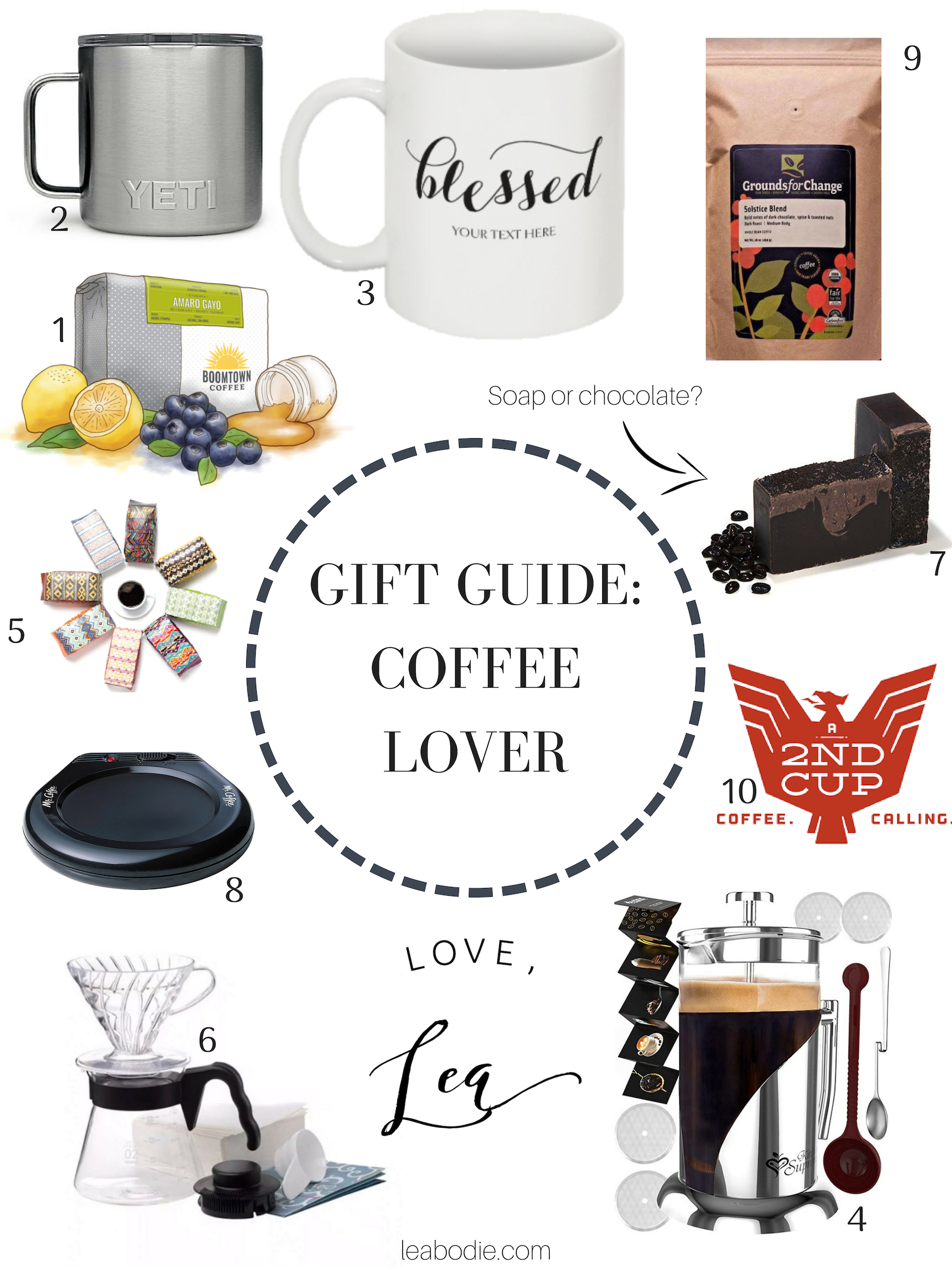 1 – Gourmet beans
Any coffee-lover is sure to appreciate a gift of gourmet coffee beans. Skip the Starbucks and head to a gourmet grocer or your favorite local coffee roastery for a real treat, You can also see what beans you can score if you shop around online.
2 – Good travel coffee mug
A good to-go coffee mug is hard to find. It needs to fit in a cup holder, be easy to wash, and most importantly, has to actually maintain the temperature of my drink for as long as I need it to. Stick with a reliable brand, like Yeti, to know you're getting a mug that'll last.
3 – A coffee mug for home
There are plenty of situations where coffee must be consumed at home, so there's nothing wrong with a traditional coffee mug. Surprise them with a set of matching mugs, or splurge on a personalized mug for something extra thoughtful.
4 – French press
A solid french press is a must-have for any coffee lover. Some swear by them as the best way to produce a great cup of joe. Whether it becomes their go-to coffee maker or a way to brew a special cup when the occasion arises, they'll appreciate having one around.
5 – Subscription box
A coffee-themed subscription box is a great gift – after all, who doesn't love getting a package in the mail? Consider an option like Atlas Coffee Club, which will ship your favorite coffee-lover a different coffee variety from an international destination each month. For folks who take their coffee seriously, this can be a fun way to try new blends and beans.
6 – A pour-over coffee kit
If you're shopping for a real coffee snob, they're sure to appreciate a pour-over coffee kit to help them embrace this recent trend in caffeination. There are plenty of pour-over kits available online, but if you're willing to splurge, check out your favorite gourmet coffee shop and see what they have in stock.
7 – Coffee soap
For a fresh take on a coffee-themed gift, consider coffee soap. There are lots of handmade, artisan soaps out there – like this one – that incorporate coffee as an ingredient.
A coffee gift basket.
8 – An electric mug-warmer
No coffee-drinker enjoys coming back to their cup of coffee to find it cold. Prevent this problem with an electric mug-warmer, which is essentially a tiny hot plate.
9 – A gift basket
If you can't make up your mind about what to gift your favorite coffee-drinking friend, a coffee-themed gift basket can be a great choice. Create your own and incorporate an assortment of items from this list, or order a pre-made basket online from Grounds for a Change. Grounds for Change is a family-owned and operated coffee roasting business located on the Kitsap Peninsula due west of downtown Seattle. They roast their 100% fair trade, organic coffee in small batches to ensure that you receive the freshest coffee possible.
10 – A gift card for a cause
A 2nd Cup is more than a cafe, it's coffee with a cause. A 2nd Cup was established in 2012 to raise awareness of human trafficking issues in Houston. They also aim to develop resources that help give survivors a second chance. Their mission is to provide an avenue for generating awareness of human trafficking in Houston and to work towards the abolition of slavery in our city.
Gift one of these items to your favorite coffee drinker and they're sure to appreciate it! What other ideas for coffee-related gifts have you seen this year? Leave a comment and let me know!
11 – Coffee flavored protein powder
Skip the Starbucks gift card and let them enjoy a vegan protein shake designed to support overall health, energy, and well-being. I love Arbonne's Fit Pea Protein Shake (Coffee Flavor) linked here.