Christmas shopping for a friend or family member who loves camping can be tricky, especially if you don't consider yourself much of a camper. Of course, you don't want to get them something too impractical, but you want your gift to be fun and not all business. It's a tough balance to strike. Fortunately, I'm here to help! If you're shopping for a friend or family member who loves to camp, you'll find plenty of inspiration contained in the list below. These ten gift ideas make perfect presents for campers: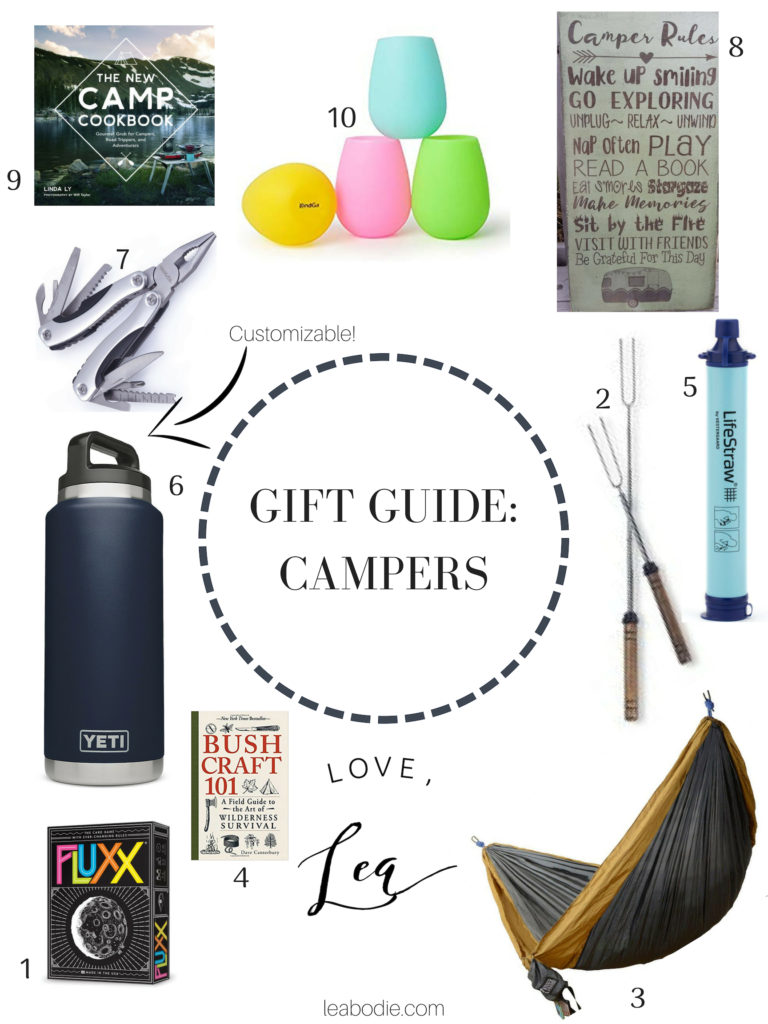 1. A game to keep them busy by the campfire
At the end of a long day of hiking, fishing, or otherwise adventuring, it can be nice to have a fun distraction to enjoy around the campfire. Look for a fun card game that can be easily played without a table or too much stuff. A standard deck of cards will work just fine, but I recommend something fast-paced and easy to follow like Fluxx.
2. S'mores supplies
S'mores are an integral part of the classic camping experience and a must-do for anyone who's camping with a sweet tooth. Make the process easier by gifting a set of marshmallow-roasting skewers or a grilling basket. When it's too cold to camp let them embrace their favorite dessert indoors with a s'mores maker.
3. A hammock
Relaxing in a hammock can be the perfect camping activity for a lazy afternoon. Look for something lightweight and waterproof – like this hammock.
4. A survival guide
Give them the gift of information with a book on how to stay safe when faced with challenging conditions outdoors – after all, you never know what to expect. Choose something practical, or get them a book filled with cautionary tales.
Water filters make another great practical gift for the friend who loves to camp. Drinking water straight from lakes, ponds, or streams is never recommended, but filters like these can quickly remove any contaminants that might make you sick or otherwise ruin your camping trip.
6. A sturdy, insulated water bottle
Insulated water bottle makers have stepped up their game in recent years, and it's now easy – albeit a little pricey – to find a container that will truly keep your hot things hot and cold things cold. Consider picking up a thermos from Yeti or Hydroflask.
7. A multitool
Pitching a tent, building a fire, and sleeping outdoors is made much easier when you have a multitool on hand. This 14-in-one tool incorporates a pair of pliers, a screwdriver, a knife, a can opener, and other handy gadgets. People who camp often won't struggle to find a way to put one of these to use.
When they're stuck indoors, remind your friend of all their awesome camping adventures! Blow up a photo they've taken on their own and frame it for a new piece of wall art, or find another way to surprise them with a fun way to incorporate their love of camping into their home decor.
9. A camping-inspired cookbook
Cooking over a campfire can be fun, but it can be tough coming up with new recipes and different ways to prepare old favorites. With a cookbook like this, your friends are guaranteed to enjoy a little more variety in their camp menu.
10. Silicone camping cups
A set of these flexible, bendable cups can make a perfect addition to your next camping trip. Cups like this are perfect for the eco-friendly camper! They won't need to use a ton of plastic cups, and can avoid the potential hazard posed by breaking glass. Whether they're used for wine or water, they're perfect for home or campsite!
Make your camper's experience better the next time they're in the woods with any of these great gift ideas. Which of these gifts would you love the most? If you love to camp, leave a comment and let me know!