Halloween With Braces — With Recipes
"What can I have that's fun to eat for Halloween?" Orthodontists say it's the perennial question from kids wearing braces (and from a few adult beverages orthodontic patients, too).
Those who wear braces should avoid nuts, popcorn, tortilla chips, all hard candy, jelly beans, licorice, taffy caramel and other chewy candies, whether consumed on their own or as recipe ingredients. However, especially because October is National Orthodontic Health Month, orthodontists want to help their patients enjoy the season.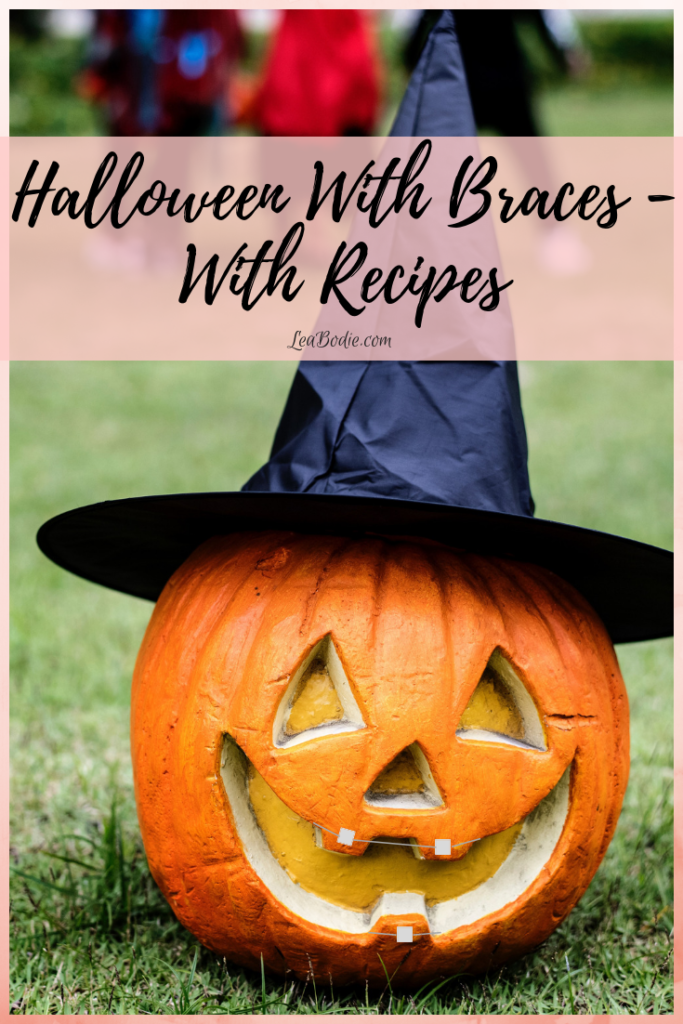 "We recognize that kids will be kids, and are going to eat sweets," says Dr. James E. Gjerset, president of the American Association of Orthodontics (AAO). "We certainly want them to consume treats that will not damage their braces. Some sweet treats may be permissible occasionally, but only if patients brush and floss right after eating.
"A little awareness and creativity in the kitchen can produce big smiles from trick-or-treaters with braces" he says. "If you routinely put walnuts in brownies, but someone in braces will attend your Halloween party, keep in mind that the orthodontic patient will be able to eat brownies only if they are free of nuts or other hard foods potentially harmful to braces," says Dr. Gjerset.
Bobbing for apples is also not recommended for anyone wearing braces. However, orthodontic patients can enjoy thinly sliced apples, dipped in yogurt dip or creamy chocolate sauce.
The following recipes for seasonal confections are offered to help orthodontic patients enjoy the holiday. Be sure to remind your favorite orthodontic patient ( and those without braces as well ) to brush after eating sugary treats or starchy snacks, and to floss daily.
Halloween Parfait
Makes eight 8-ounce servings.

Ingredients:
3 boxes of instant vanilla pudding (enough to make 12 one-half cup servings)
1 teaspoon red food coloring
3/4 teaspoon of yellow food coloring
One 9-ounce package plain chocolate wafers
6 cups of milk
One 8-ounce can of mandarin oranges, drained
Directions:
Combine pudding mix in large bowl as directed on the package. Refrigerate until firm. Crush chocolate wafers into crumbs, using food processor, or put the wafers into a zip-lock bag and crush with a rolling pin.
Combine red and yellow food coloring in a small bowl. Stir into pudding thoroughly, until pudding is orange. Layer pudding with two layers of chocolate crumbs in a parfait cup or glass. Top each layer of crumbs with chocolate syrup, to taste before adding next pudding layer. Top each parfait with mandarin oranges and additional chocolate wafer crumbs.
Jack-O'-Lantern Fruit Cup
Ingredients:
1 orange
Choice of assorted fresh or frozen fruits

Directions:
Wash and chop assorted fruits and mix together in a bowl. Set aside. Slice off the top of an orange (as you would for a Jack-O'-Lantern). Scoop out the inside of an orange to your fruit salad. Carve and face into the orange.

Fill the orange with the fruit salad, allowing the fruit to pop out of the eyes and mouth.
Almond Sugar Cookie Cut-Outs
Ingredients:
1 cup of butter (softened)
1 1/2 cups powdered sugar
1 egg
1/2 teaspoon almond extract
1 teaspoon vanilla extract
2 1/2 cups flour
1 teaspoon cream of tarter
1 teaspoon baking soda

Directions:
Cream butter and sugar until light and fluffy, then add the egg, vanilla extract and almond extract flavorings. Combine the dry ingredients in separate bowl. Next, add the dry ingredients (by 1/2 cup measurements) to the butter/sugar mixture. Mix with a mixer on medium speed.
Chill the dough for 2-3 hours or overnight, or "quick chill" in the freezer until very firm, for about 30 – 45 minutes.

To bake:
Preheat oven to 375 degrees. Separate the dough into fourths and roll each section until it is about 1/8 – 1/4 inch thickness and using 2 1/2 inch ghost shaped cookie cutter, cut into desired shape. Bake at 375 degrees for 7 – 9 minutes or until the edges just begin to brown.
Super Easy Ornamental Frosting
Ingredients:
16 ounces of powdered sugar
3 tablespoons of meringue powder
1/3 cup of warm water

Directions:
Combine all ingredients and mix at medium speed until smooth. Spread the frosting on each cutout. For spreading consistency, thin icing by adding tablespoons of warm water. Please note – it doesn't take more than one or two tablespoons to thin the icing.


*To add ghost eyes use chocolate icing on a knife point.
Special thanks to Dr. Heather Lindsay, Heather Lindsay Orthodontics for the awesome tips!
http://www.lindsayorthodontics.com/