Christmas is right around the corner! It's time to start pinning down the perfect present for every friend and family member on your list. If you're shopping for the cocktail connoisseur, wine lover, or beer enthusiast in your life, this list is sure to inspire! If you aren't quite sure what to buy your friend who enjoys the occasional drink, these are ten gifts your booziest friends are sure to love!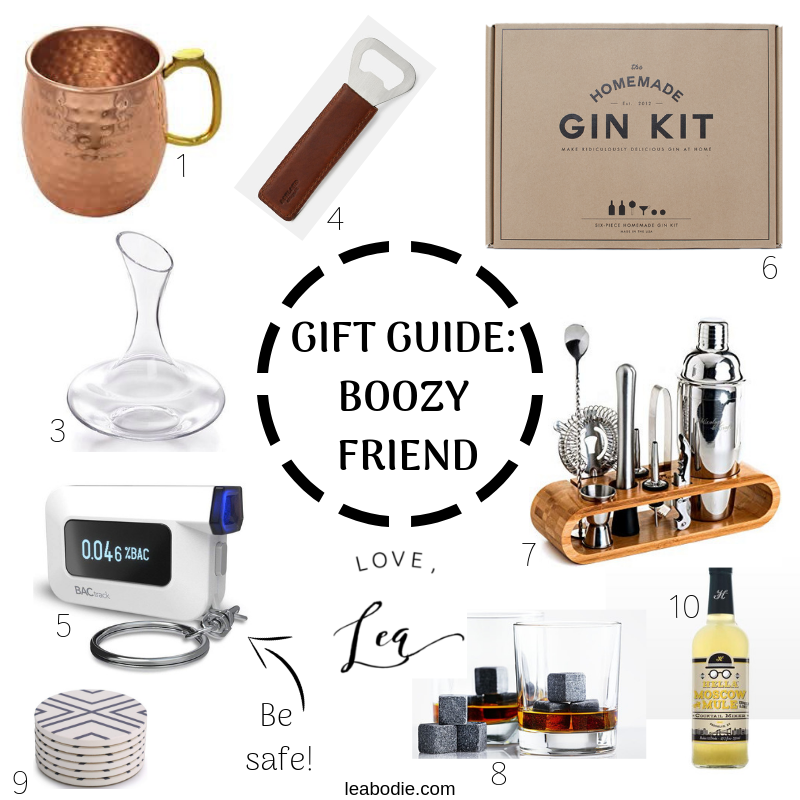 1. Specialty drinkware
If you take your drinking seriously, you know there's apurpose for every shape and size of glass out there. A set of stemless wineglasses, Moscow mule mugs, or glassesdesigned to hold their favorite type of beer can truly enhance their beverageand make a much appreciated present.
2. Mixology class
Find a local mixology class and gift your alcohol-loving friend credit to attend. There's a surprising amount of science that goes into mixing a solid drink, and they're sure to walk away with at least one or two pointers to help them better enjoy their favorite drinks.
3. Wine carafe
Wine drinkers will tell you many varieties are best consumed after a little aeration, which makes a sleek carafe like this one a great gift for anyone who takes their reds and whites seriously.
4. Personalized bottle opener
A custom bottle opener can be a practical and personal gift for the beer drinker in your life. Choose a simple classic design or a wall-mounted bottle opener for something that doubles as a piece of decor.
5. Keychain breathalyzer
If you're on the hunt for a gag gift that also serves a practical purpose, this one checks both boxes. A keychain breathalyzer will help your friend know when they're safe to drive home and when it might be best to take an Uber instead.
6. Homemade gin kit
Let the alcohol fan in your life take a DIY approach on their beverage of choice with a homemade liquor kit. You can find little kits to help barrelage whiskey, brew beer, and make gin.
7. Bartender kit
Give your favorite drinker the ability to recreate their favorite beverages from the bar in the comfort of their own home. This bartender kit comes equipped with a mixing spoon, a muddler, a strainer, spouts for liquor bottles, tongs, a shaker, and a few other essentials for the at-home bar.
8. Whiskey stones
Whiskey stones are a useful accessory for the man – or gal – who loves chilled whiskey(or white wine). With these, they won't need to water down their drink with ice cubes. Whiskey stones like these can be frozen and added to keep their glass cool, no water needed.
9. Coasters
A nice set of coasters can seriously elevate your home bar. They'll also keep your giftee from leaving water marks across their countertops! Choose a durable design in a style you think they'll appreciate.
10. Cocktail Mixers
Gift them everything they'll need to make their favorite cocktail – or try something totally different – with a cocktail mixer. Consider this set of interesting cocktail blends that even have gluten-free options.
These gifts are sure to please any boozy friend on your Christmas gift list! What other gifts can you think of to please the alcohol aficionado in your life? Leave a comment and let me know!