Spring has officially sprung here in Houston! I wrote a whole post about 10 items every mom should carry in her bag, and while most of those items still stay in my bag, I also change things up a bit with the spring season. If you are curious about what I'm carrying around with me in my spring bag, here are a few things that I carry that you may want to consider bringing in your bag too!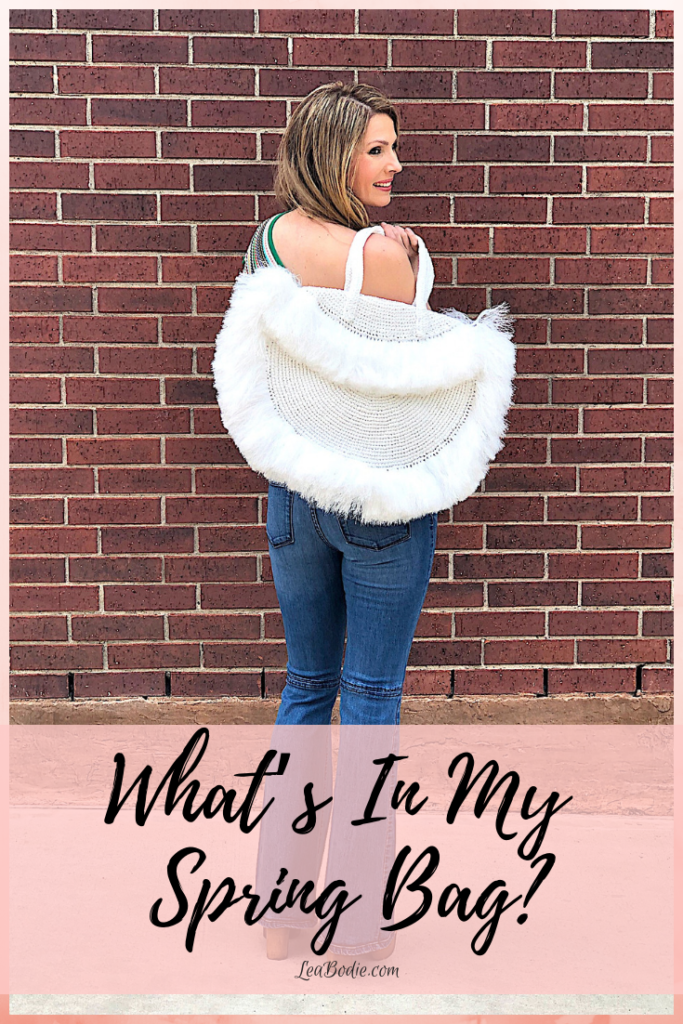 Essential Oil Blend for Allergies
During allergy season, we keep an essential oil blend for allergies handy when we leave the house. Here are some of the essential oils I keep on hand during allergy season:

Sandalwood
Frankincense
Ravensara Oil
Lavender
Eucalyptus
Tea Tree Oil
Peppermint
Lemon
To create my essential oil blend for allergies, I keep a blend of sandalwood, frankincense and Ravensara oil handy!
Tissues
I know that most of you are already carrying tissues in your handbag during the rest of the year, but during spring, we try to keep extra tissues on hand. Allergy season is in spring and this means that we tend to grab tissues a little more frequently. I don't carry a full-size box in my purse, but I will carry a backup pack just in case we run out.
Books
I always keep a book with me in my purse during the spring months. In the spring we find ourselves at the park a lot more. I like to keep a book on hand that I can read while my kids are playing. While I do play with my kids while we are at the park, there is no way I could keep up with them for hours at the park!
Sunglasses
No matter what is on the schedule for the day, I make sure that I have a pair of sunglasses handy with me! To make sure I'm never without sunglasses on a sunny day, I keep them in my purse so they're ready to go when I need them.
Activities for the Kids
I always have activities handy for my kids in my purse for longer days out. If I know we have a doctor's appointment, we'll be going out to eat, or anywhere that I think I may need to keep my kids busy, I keep a few activities for them on hand. This could be play dough, homeschool practice activities, or something that is easy for them to do while on the go.
Makeup
You never know when you are going to need to touch up your makeup while you're out! This is why I keep a few of my favorite makeup items with me on the go. Here are some of the makeup items I'm carrying in my spring bag:
Tea Tree Oil (I use this every day to help clear my pores)
Moisturizer
NARS Orgasm Blush
Maybelline Great Lash (this is the best mascara out there)
The rest of my makeup is by Charlotte Tillbury, and that includes my eye shadow and other makeup essentials that I keep in my bag.
These items are essential to my spring bag! I hope this post has given you a few ideas of what to add to your bag this spring.

---
What do you carry in your spring bag?