Interior Design at Blue Magnolia Farm
As many of you know, my family decided to build our new home from the ground up, making every little detail unique to us. A few months ago, we were finally able to move into Blue Magnolia farm, where I was thrilled with being able to take charge of the interior design of our home.
I will admit that it was overwhelming, so I decided to reach out to multiple companies to help me do the job. One of the businesses, Havenly, told me that they would have designers assess the space and present curated items that fit the vibe of the farm. They did a wonderful job on my outdoor patio space and living room, and I am now working with them for my home office.
Havenly is amazing because they are fast, efficient and created a perfect space for my family. I highly recommend working with them, and you can get a Mini or Full Package for 25% off using my code "LEA25". I am so thrilled with the results so far and I cannot wait for the office to be completed!
In the master bedroom, I realized that I wanted to make our space more unique, personal and intimate. My husband and I needed the room to feel special. When I asked artist Brittany Atkinson for a gallery wall commission, she was excited to get started. Brittany is an Austin-based artist known for her abstract female portraits and figures, which was perfect for my vision of an abstract and romantic space.
Because my husband and I share a deep, committed relationship with the Lord, I asked her to create works based on verses from the "Song of Songs," also known as the "Song of Solomon." This verse gives "the voices of two lovers, praising each other, yearning for each other, proffering invitations to enjoy." It celebrates intimacy and the harmony of marriage, and I felt like it created a true oasis for our relationship.
A few months went by and Brittany was done! I was so excited to see these beautiful pieces and they turned out so much better than I could have imagined!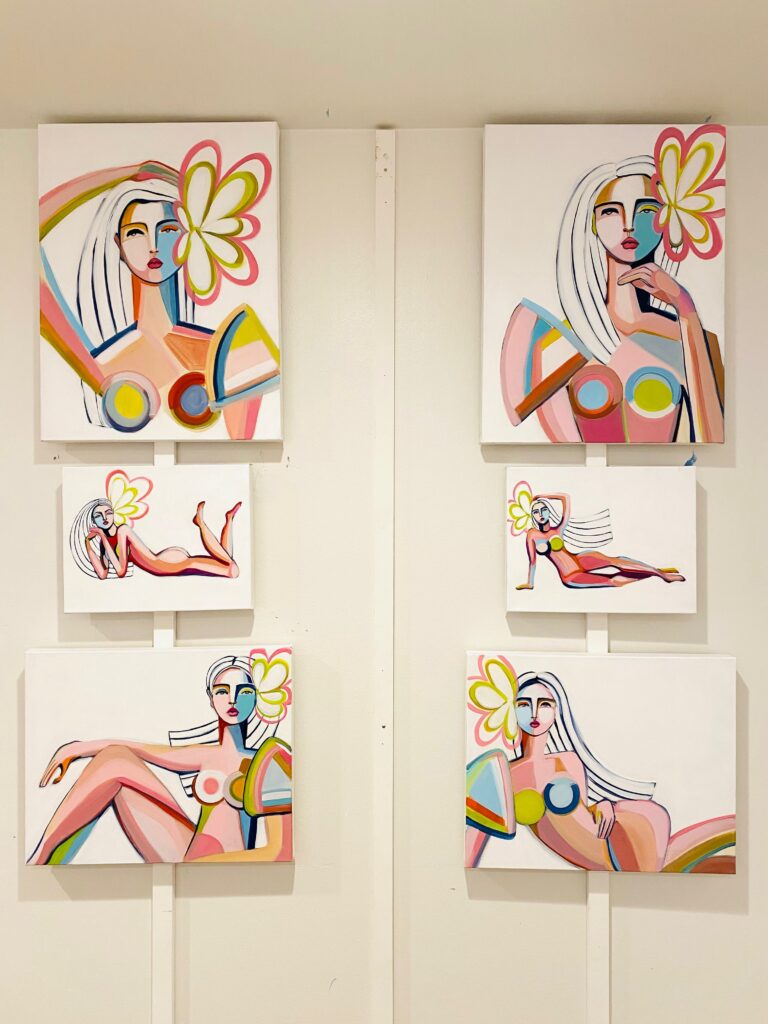 * * *
I asked Brittany a few questions about her creative process that I think are interesting:
What song influenced your creative process the most?
While working on your piece, I listen to several different YouTube videos about the "Song of Songs."
Were there any specific lines that resonated with you that translated into the pieces?
I was inspired by the story and inspiration behind the sacred intimacy a husband and wife share within their marriage.
How did you decide what medium to work with, colors to use, etc?
I used golden soft acrylics and pulled in colors from your bedroom and added in complementary colors.
How does your creative process work and what did these pieces mean to you as an artist?
My creative process with commissions takes longer than my regular pieces. There is so much more thought that goes into commissioned pieces. I often am trying to create a vision the client has while incorporating my own artistic style. It can get tricky, but working with you was a dream. You were able to give me plenty of information to draw inspiration from. It was a pleasure painting for you!
* * *
I feel like my home is coming together perfectly and I am so excited to start the next project and see where this journey takes me. Please check out Brittany if you are interested in her pieces. See you soon!
xoxo,
Lea