10 Clever Gifts for the Guy Who Has Everything
Stuck shopping for the guy who has everything? We've all got at least one on our list. That guy who buys whatever he wants and doesn't really need anything else. Still, when the holidays roll around, you want to give him a gift he'll appreciate — so you'll need to think out of the box and come up with something on your own.
If you're looking for inspiration, you've come to the right place. Here's a list of ten clever gifts the guy who has everything is sure to appreciate: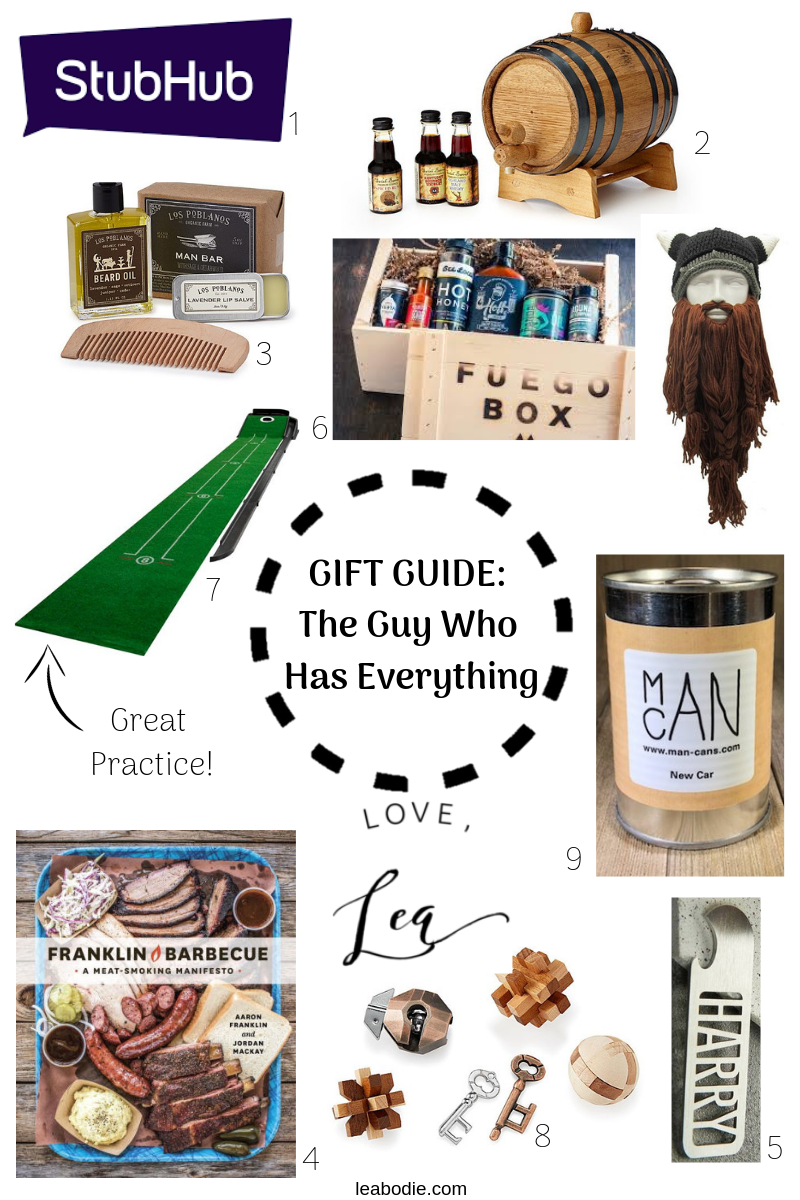 1. Concert tickets
One thing you can guarantee he doesn't have – constant access to his favorite band live. Gifting him an experience with a pair of concert tickets can make an incredibly thoughtful and appreciated gift.

2. Liquor making kit
Let him have some fun recreating his favorite alcohol with an easy DIY at-home kit. You can find kits to help you age whiskey, distill gin, make wine, and tackle just about any other beverage you'd like to drink.

3. Stuff for his beard
If he's rocking a beard, consider gifting him something to show it a little TLC. You can find subscription boxes geared toward men with bears for a gift that'll keep on giving, but for a one-and-done gift, a Beard Box is a present sure to please.

4. A book
A book might not sound like the most exciting gift, but if you know his interests, odds are you can find a pretty cool book to add to his coffee table collection (or help him get one started, if he doesn't have one!). Does he love to BBQ, rock climb, or explore the world? More of a sports guy? Either way, you're sure to find a book that celebrates his interests with some pretty sweet photos.

5. A super cool bottle opener
While he probably already has a bottle opener (or two or three) chances are he doesn't have a really cool one. A wall-mounted bottle opener can make an excellent addition to the walls of his man-cave. Alternately, pick up a slick custom metallic bottle opener on Etsy.

6. A fancy condiment
Give him an easy way to add some flavor to his favorite dishes with fancy condiments – or an assortment of 'em! Does he slather mustard on absolutely everything? The Mustards of the World gift box is a must-get! If he's more of a hot sauce guy, surprise him with the Spicy Box of Awesome gift set instead.

7. A putting machine
Does he dream of spending afternoons on the golf course when he's stuck at work? Help him improve his golf game and have a little fun at home, in the office, or wherever else he finds himself with a putting machine.

8. A logic puzzle
You can go traditional and stick with a Rubix Cube, but there are plenty of other logic puzzles out there if you're looking to gift him something that'll challenge his mind. This little set of logic puzzles is a perfect choice to use at home or to keep on his desk at the office as an occasional distraction.

9. A manly candle
Who doesn't appreciate a good candle? If you don't think he'll be excited to light up a candle that smells like fresh linen or a flower-filled field, you might have better luck with a ManCan – candles designed with men in mind. Choose from scents like Campfire, Sawdust, and Bacon.

10. Something to keep him warm
If you think you know him well enough to understand his taste in clothes, a warm hat, scarf, or pair of gloves can make a great Christmas gift. Opt for something classic if you're hoping to provide a practical gift, or have fun with it and treat him to something a little more fun.

---
Equipped with this list, you'll be well on your way to buying the perfect present for the guy who has everything. What are your go-to gifts for guys who are tough to shop for? Let me know in the comments below!